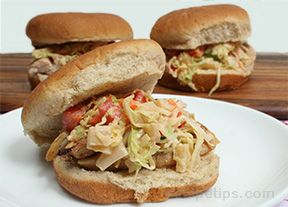 Directions
Coleslaw:
Mix coleslaw, chestnuts and red pepper with mayonnaise and soy sauce that has been blended together.
Sandwiches:
In small bowl mix together soy sauce, honey, oil and garlic.
Place tenders on grill on medium heat. Brush with soy mixture. Close grill lid, grill for 5 minutes. Open, turn tenders when nicely browned and brush other side with soy mixture. Close grill, cook for 5 more minutes. Brush again and remove when nicely browned and cooked through.
Toast buns for 2-3 minutes. Remove from grill.
Place 2-3 tenders on each bun; top with coleslaw mixture.
Prep Time: 15 minutes
Cook Time: 10 minutes
Container: grill, small mixing bowl
Servings: 2


Ingredients
-
2 tablespoons soy sauce
-
3 teaspoons honey
-
3 teaspoons sesame oil
-
1 teaspoon crushed garlic, 1 clove minced
-
6 ounces chicken tenders, 4-6 tenders
-
hamburger buns
-
1 cup coleslaw mix
-
1/2 can waterchestnuts, chopped
-
1/2 red pepper, chopped
-
3 tablespoons mayonnaise
-
2 tablespoons sweet teryaki sauce