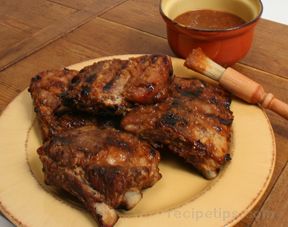 Directions
In large saucepan cook onion in butter until tender.
Drain plums, reserving liquid, remove pits. Place plums, syrup, apricots (or loquats) in blender or food processor. Process until smooth.
Add plum puree and remaining ingredients into saucepan with onions. Simmer, uncovered for 10-15 minutes, stirring occasionally.
Grill ribs over low heat about 20-25 minutes, turning 3-4 times and brushing often with sauce until well coated.
Pass remaining sauce with when serving ribs.
Prep Time: 15 minutes
Cook Time: 40 minutes
Container: grill, large saucepan
Servings: 8


Ingredients
-
8 pounds pork spareribs
-
1/2 cup chopped onion
-
2 tablespoons butter or margarine
-
1 (17 oz.) can purple plums
-
1 cup apricots (or loquats)
-
1 (6 oz.) can frozen pink or yellow lemonade, thawed
-
1/4 cup chili sauce
-
1/4 cup soy sauce
-
2 teaspoons yellow mustard
-
2 teaspoons fresh grated ginger or 1 tsp. ground ginger
-
1 teaspoon Worcestershire sauce