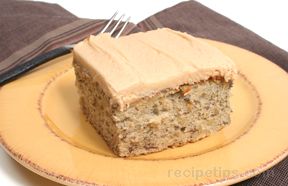 Directions
Preheat oven to 350°. Grease and flour 9x13 pan.
In a large mixing bowl, cream butter and sugar until light and fluffy. Add eggs, one at a time. Beat in bananas and vanilla.
In a small bowl, combine flour, baking powder, baking soda and salt. Add to creamed mixture, alternating with buttermilk.
Pour into prepared pan. Bake for 30-35 minutes or until a toothpick inserted in middle comes out clean. Cool on wire rack.
For frosting, in a large mixing bowl, beat the peanut butter and butter until smooth. Beat in powdered sugar and enough milk for desired consistency. Spread onto cake.
Prep Time: 15 minutes
Cook Time: 30 minutes
Container: 9x13 pan
Servings: 15
Serving Size: 1 slice


Ingredients
-
3/4 cup butter
-
2 cups sugar
-
3 eggs
-
1 1/2 cups bananas, mashed (about 4 medium)
-
1 1/2 teaspoons vanilla
-
3 cups flour
-
1 1/2 teaspoons baking powder
-
1 1/2 teaspoons baking soda
-
3/4 teaspoon salt
-
1 cup buttermilk
-
FROSTING:
-
4 tablespoons peanut butter
-
2 tablespoons butter, softened
-
4 cups powdered sugar
-
6 tablespoons milk