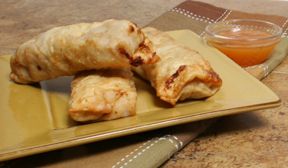 Directions
In small bowl combine soy sauce, vinegar and sugar.
In large skillet heat olive oil over medium heat. Add cabbage, carrots, garlic and ginger. Season with salt and pepper; cook, tossing vegetables until tender (about 3 5 minutes).
Raise heat to high, add pork and soy mixture. Cook until pork is no longer pink, 7-10 minutes.
Remove from heat, transfer to bowl to cool.
Lay wrappers flat on work surface and assemble one at a time.
DEEP FRYING:
Heat 6 cups of vegetable oil until it reaches 250° F. Cook in batches of 4, fry until golden brown, turning accasionally. Drain on paper towels. Serve with sauce.
BAKING:
Preheat oven to 400° F, lightly oil a baking sheet, place egg rolls on sheet and brush with oil. Bake until golden brown (about 15 minutes). Serve with sauce.
FREEZING:
Prepare egg rolls as directed above. Freeze in a single layer until firm. Transfer to freezer bags. Can be frozen for up to 3 months. No need to thaw before baking or frying.
Prep Time: 20 minutes
Cook Time: 30 minutes
Container: small bowl, large skillet, 5 quart pot for frying or baking sheet to bake, if you prefer.
Servings: 16


Ingredients
-
1/4 cup soy sauce
-
2 tablespoons rice vinegar
-
1 tablespoon brown sugar
-
1 head cabbage, thinly sliced
-
1 tablespoon olive oil
-
1 bag shredded carrots
-
4 cloves garlic, minced
-
1 tablespoon fresh ginger, grated
-
1 pound ground pork (chopped left over pork works well too)
-
6 scallions, thinly sliced
-
16 egg roll wrappers
-
1 bottled or homeade sweet-n-sour sauce and spicy mustard for dipping
-
salt and peper