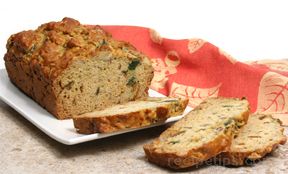 Directions
Preheat oven to 350° F.
Grease loaf pan.
Sift together dry ingredients in large bowl.
In small bowl, stir melted butter, honey, sugar (if using) into apricots. Beat egg, add to apricots along with abstracts. Add wet ingredients into flour along with water and apricot juice. Stir in orange rind and almonds; mix to combine.
Pour into prepared pan and bake about 1 1/2 hours or until toothpick inserted in center comes out clean.
Let cool 10 minutes in pan, then slip out of pan and let bread cool on wire rack for 15 minutes before slicing.
Prep Time: 20 minutes
Cook Time: 1.5 hours
Container: medium bowl, large bowl, bread baking loaf pan
Servings: 12
Serving Size: 1 slice


Ingredients
-
shortening to grease the pan
-
1 1/2 cups thinly sliced apricots or loquats
-
1 cup water
-
1/2 cup juice from apricots
-
2 1/2 cups flour
-
1 teaspoon baking soda
-
2 teaspoons baking powder
-
1 teaspoon salt
-
2 tablespoons butter, softened
-
1/4 cup honey
-
1/4 cup brown sugar
-
1 egg
-
1 teaspoon almond extract
-
1 teaspoon vanilla extract
-
1 teaspoon orange rind
-
1 cup finely chopped almonds