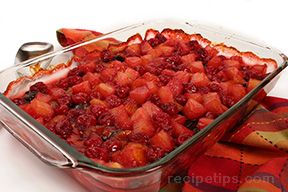 Directions
Place plums (prunes) and apricots in bottom of baking dish.
Combine the remaining ingredients over the dried fruits placed in the dish.
Bake uncovered at 350°F for 1 hour in oven.
Serve warm.
Note: If microwave cooking is preferred, cover baking dish with heavy duty plastic wrap leaving one corner open to vent. Cook on high for 12 minutes. Stir after 6 minutes and continue cooking.
Prep Time: 10 minutes
Cook Time: 1 hour
Container: 9 x 13 baking dish
Servings: 8
Serving Size: cup


Ingredients
-
6 ounces dried plums (prunes) - less if desired
-
12 ounces dried apricots
-
20 ounces pineapple chunks, undrained
-
11 ounces mandarin oranges, drained
-
21 ounces cherry pie filling
-
1/4 cup cooking sherry - optional