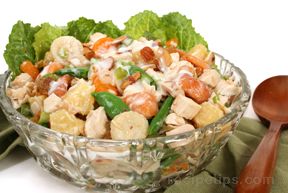 Directions
DRESSING
Seperate pineapple chunks from juice. Reserve juice and set pineapple chunks aside for use in salad.
In a small bowl, combine yogurt, pineapple juice, mustard, and ginger. Mix together well. Refrigerate until ready to use. SALAD
Wash pea pods to clean off any dirt on the pods. Dry and set aside to dry. If desired, pea pods can be blanched for several minutes. If pods are to be used fresh, allow to dry from washing and cut in half if desired. The pea pods can be added to the salad as whole or cut pea pods.
Peel loquats, cut open the fruit and remove seeds. Cut fruit into slices and drizzle with lemon or lime juice to preserve color until ready to use. If desired, peaches can be substituted for loquats since loquats may be a difficult fruit to find.
Chop celery into small pieces. Cut onions into finely chopped pieces.
Cut cooked chicken into cubes if not already cubed.
In medium size bowl, add raisins, pineapple cubes, mandarin oranges, loquats (or other fruit), celery, onions, chestnut slices, and almonds. Mix all together well.
Refrigerate until serving. Just before serving, add dressing and toss ingredients to coat well with dressing. Serve over a bed of lettuce greens.
Garnish with additional almond slices over the top center of salad if desired.
Prep Time: 30 minutes
Container: large salad bowl - makes 8 cups
Servings: 6
Serving Size: 1 cup


Ingredients
-
DRESSING
-
1/3 cup pineapple juice
-
6 ounces vanilla yogurt
-
1/4 teaspoon ground ginger
-
1/2 teaspoon Dijon mustard
-
SALAD
-
20 ounces pineapple chunks - drained, reserve liquid
-
11 ounces mandarin oranges - drained
-
6 loquats - sliced, or other fruit of choice
-
1/2 cup golden raisins
-
8 ounces water chestnuts slices, drained
-
3 cups cooked chicken, cubed or small chunks
-
1 1/2 cups fresh pea pods, cooked if desired
-
1 cup celery, chopped
-
3 tablespoons green onions, chopped fine
-
1/2 cup roasted almond slices
-
lettuce greens