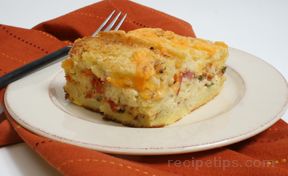 Directions
Fry bacon until golden brown, cut into pieces and set aside.
Grease the 9 x 13 baking dish.
Remove crusts from bread and cut each slice into 2 strips.
Mix together herbs and scallions in a small bowl.
Combine the grated cheeses together in another small bowl.
Cover the bottom of the baking dish with a layer of bread slices, season with salt and pepper and scatter half the herb mixture over the top of the bread slices.
Sprinkle half the cheese mixture over the herbs, then half of the tomato and half of the bacon.
Repeat these layers, then finish with a layer of bread slices.
There should be approximately 1/2" below the rim of the dish.
Beat eggs with milk and season with salt and pepper. Pour over the bread.
Sprinkle with extra cheese and cover with plastic wrap.
Place in refrigerator and refrigerate for 24-48 hours.
To cook, preheat oven to 350°, bake 1 1/2 hours or until mixture has risen 1 1/4 - 1 1/2" above rim and is golden.
Check for doneness by inserting a knife tip into the center. It should come out clean.
Serve hot from the oven.
Prep Time: 20 minutes
Cook Time: 45 minutes
Container: 9 x 13 pan - 2 inches deep
Servings: 8


Ingredients
-
8 slices bacon - fried
-
Butter to grease dish
-
8-10 slices thick white bread
-
3 scallions - chopped
-
3 tablespoons fresh parsley - chopped
-
1 tablespoon fresh tarragon - snipped
-
1/2 cup grated swiss cheese, more to sprinkle on top if desired
-
1/2 cup grated colby jack cheese, more to sprinkle on top if desired
-
Salt and pepper
-
1 tomato - chopped
-
8 eggs
-
3 1/2 cups milk