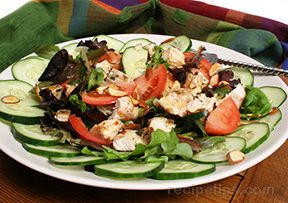 Directions
DRESSING
In medium saucepan, whisk together pineapple juice, chili sauce, vinegar, soy sauce. Bring to a boil, reduce heat to medium and simmer until 1/2 - 3/4 cup remain.
Transfer to medium bowl, whisk in mustard and sesame oil, allow to cool to room temperature.
CHICKEN
Brush both sides of chicken breasts with mixture of tarragon, salt and pepper. Lay breasts seasoned side down on grill over direct medium heat. Cook for 5-8 minutes, until nicely browned.
Sprinkle the rest of the seasoning on top of each breast and turn to finish cooking.
Cook until no longer pink in the middle, about another 5 minutes.
Remove to cutting board, let rest for 5 minutes, then cut into bite size chunks.
In large serving bowl, combine greens, chicken, almonds (or pinenuts), tomato and cucumber. Drizzle with dressing, toss to evenly coat. Serve immediately.
Prep Time: 20 minutes
Cook Time: 15 minutes
Container: Medium saucepan, Large serving bowl, Medium Bowl


Ingredients
-
DRESSING
-
3/4 cup pineapple juice
-
2 tablespoons thai style chili sauce
-
2 tablespoons white wine vinegar
-
1 tablespoon soy sauce
-
1 tablespoon Dijon mustard
-
1 teaspoon sesame oil
-
CHICKEN AND MAIN INGREDIENTS
-
1/2 cup sliced almonds, toasted (or pinenuts)
-
1 tomato, cut up, or grape tomatoes
-
4 boneless, skinless chicken breasts, about 6 oz. ea.
-
1 1/2 tablespoons fresh tarragon, chopped
-
2 teaspoons kosher salt
-
4 cups mixed greens
-
1 cucumber, thinly sliced
-
ground black pepper
-
olive oil