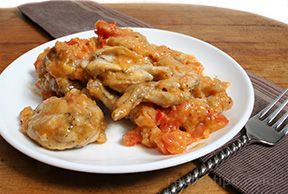 Directions
Heat olive oil over medium heat. Add frog legs, sprinkle with salt and pepper. Sauté each side about 5 minutes or until golden brown. (Note: Don't have heat too high or it will splatter all over.) May cover while browning.
Remove legs, set aside on a platter.
Clean skillet. Put in oil and butter, add shallots and garlic, sauté until tender. Sprinkle with flour.
Stirring, slowly whisk in chicken stock. Keep whisking as it thickens, turn down heat to low.
Add Old Bay Seasoning, tomatoes, parsley and paprika, salt and pepper to taste.
Prep Time: 20 minutes
Cook Time: 15 minutes
Container: Medium Skillet
Servings: 6


Ingredients
-
2 pounds frog legs
-
2 tablespoons olive oil
-
2 tablespoons unsalted butter
-
1 shallot, minced
-
2 cloves garlic, minced
-
1 tomato, chopped
-
1 cup chicken stock
-
1/2 teaspoon paprika
-
3 tablespoons flour
-
2 tablespoons parsley (optional)
-
salt and pepper