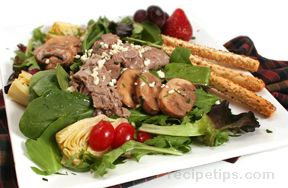 Directions
MARINADE - Makes approximately 3/4 cup
Using a small bowl or a glass jar with lid, combine olive oil, vinegar, mustard, honey, garlic, salt and pepper. Mix or shake together to blend all ingredients well. Set aside.
This marinade can be doubled when it is made to be served with the salad for anyone desiring to add more for additional flavoring.
SALAD
If sliced deli beef is not avaiable, any thinly sliced roast beef or steak can be used instead.
Into a medium size bowl, add mushrooms, tomatoes, artichokes, and beef. Pour marinade over all ingredients. Cover bowl and place in refrigerator overnight to allow marinade to soak into contents.
When ready to serve, arrange greens over a dinner plate. Place slices of meat in center of greens and add mushrooms and artichokes hearts.
Garnish salad with fresh parsley and crumbled feta or blue cheese.
Prep Time: 20 minutes
Container: Small and medium mixing bowls - optional, salad dressing jar
Servings: 4


Ingredients
-
MARINADE
-
1/2 cup virgin olive oil
-
1/4 cup red wine vinegar
-
2 teaspoons Dijon mustard
-
1 clove garlic, crushed
-
1/2 teaspoon honey
-
1 teaspoon salt
-
1 pinch black pepper, fresh ground
-
SALAD
-
8 ounces small mushrooms, sliced
-
1 1/2 pounds deli sliced roast beef
-
5 ounces spring greens
-
5 ounces baby spinach greens
-
1/2 cup grape or cherry tomatoes, halved
-
14 ounces artichoke hearts, drained and halved
-
2 tablespoons fresh parsley, minced
-
3 tablespoons feta or blue cheese, crumbled