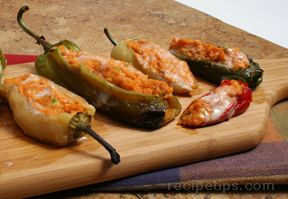 Directions
Preheat oven to 350°.
Grease the baking dish.
Leave pepper stems on, cut peppers open down one side.
Clean out the membrane and seeds.
Place on the grill on medium heat.
Cook for 5 minutes each side or until charred.
Place in a paper bag, let sit for 5-10 minutes, then take them out and peel off the skin.

STUFFING:
Bake sweet potatoes until done.
Split open, let cool and remove the soft flesh to a medium mixing bowl.
Stir in green onion, chili powder and garlic.
Add in 2 tablespoons milk.
Stir in 1/2 cup queso quesadilla cheese or colby jack.
Spoon potato mixture into prepared peppers.
Bake covered 25 minutes.
Sprinkle tops with more cheese.
Can be made a day ahead and kept in the refrigerator until ready to bake.
Prep Time: 35 minutes
Cook Time: 25 minutes
Container: rectangular baking dish, grill, medium mixing bowl
Servings: 6


Ingredients
-
non stick cooking spray
-
6 anaheim, poblano, banana or sweet peppers
-
2 sweet potatoes
-
2 tablespoons milk
-
3 green onions
-
2 teaspoons chili powder
-
1 clove garlic - minced
-
1/2 cup shredded queso quesadilla cheese or colby jack
-
extra cheese to sprinkle on top