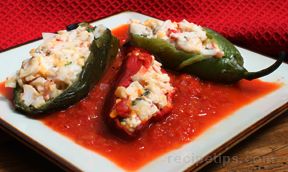 Directions
PEPPERS:
Carefully cut the top quarter off of the peppers, remove the membranes, leave stem on.
Grill peppers on a stovetop grill or outside grill for approximately 5 minutes per side or until nicely charred.
Place in a paper bag and let them rest for 10 minutes.
Remove from the bag and peel off the skins.
In a medium bowl, mix together the goat cheese, colby jack cheese, crab, shallots, lemon peel, red pepper, cilantro and basil.
Season with salt and pepper.
Mix well.
Stuff this mixutre into the prepared peppers, don't overfill. 1-2 tablespoons should fill the peppers.
Transfer them to a baking sheet and place in a warm 250° oven for 10 minutes. Just until slightly warm.

SAUCE:
In a medium skillet, heat olive oil.
Add garlic, shallots, serrano and saute for 5 minutes, just until shallots are tender.
Transfer to a food processor or blender.
Add roasted red peppers and chicken stock.
Blend until smooth.
Pour back into the skillet and warm slightly before serving.
Can be made a day ahead and refrigerated.
Ladle approximately 3 tablespoons onto a serving plate.
Place warm, stuffed peppers on the sauce and serve.
Prep Time: 20 minutes
Cook Time: 10 minutes
Container: mixing bowl, food processor, skillet
Servings: 4


Ingredients
-
PEPPERS:
-
8 poblano chiles or your favorite variety of chile pepper
-
4 ounces mild goat cheese
-
1/2 cup grated colby jack cheese
-
8 ounces imitation crab meat or 1/2 pound of shrimp - chopped
-
1 tablespoon shallots
-
1 tablespoon lemon peel - grated
-
1/4 cup red bell pepper - diced
-
1 tablespoon fresh cilantro - chopped
-
1 tablespoon fresh basil - chopped
-
salt and pepper to taste
-
SAUCE:
-
1 tablespoon olive oil
-
2 cloves garlic - finely chopped
-
1/4 cup shallots - chopped
-
1 serrano chile - seeded and finely chopped
-
2 red bell peppers - roasted, peeled and seeded
-
1 cup chicken stock
-
salt and pepper to taste