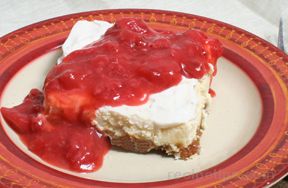 Directions
CRUST:
Mix together ingredients and press in the bottom of a 9x13 pan.
Bake at 350° for 10 minutes.
FILLING:
Beat ingredients until all are fluffy and whipped.
Pour over the baked crust.
Bake at 350° for 30-40 minutes or until the center is set. The cake may crack a little on the surface.
Cool completely.
TOPPING:
Mix all ingredients together.
Pour on top of the cheesecake.
Bake at 400° for 5 minutes.
Cool for 6-8 hours or overnight.
SAUCE:
Cut the berries into slices. Measure 1 cup of strawberry slices and set them aside.
Mash the remaining berries using a potato masher. Mash enough berries to produce approximately 2 cups.
Pour the strawberries into a medium saucepan; add the sugar, water, and cornstarch.
Cook over medium heat until it thickens. Allow the sauce to boil for 1 minute. Stir continually throughout cooking time.
After the sauce has boiled for 1 minute add the remaining strawberry slices. Stir gently until the slices are evenly distributed.
Cool completely.
Pour over cheesecake and serve.
Prep Time: 30 minutes
Cook Time: 45 minutes
Container: 9x13 pan
Servings: 15


Ingredients
-
CRUST:
-
1 stick margarine or butter
-
1/3 cup sugar
-
1 package (sleeve) graham crackers - crushed
-
FILLING:
-
3 packages (8 oz.) cream cheese - softened
-
2 eggs
-
3/4 cup sugar
-
1 teaspoon lemon juice
-
1 teaspoon vanilla
-
1/2 lemon - grated
-
TOPPING:
-
1 pint sour cream
-
3 tablespoons sugar
-
1 teaspoon vanilla
-
1 tablespoon lemon peel - shredded
-
SAUCE:
-
2 pints fresh strawberries - sliced
-
2/3 cup sugar
-
6 tablespoons water
-
1 1/2 tablespoons cornstarch