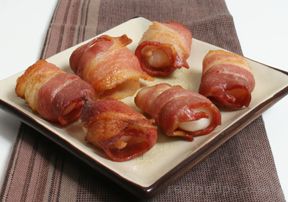 Directions
Preheat broiler.
Cut strips of bacon in half.
Wrap strips around small onions.
Place wrapped onions, seam side down, on a wire rack that has been placed on top of a baking sheet or foil lined baking sheet. The baking sheet will catch all of the bacon dripping.
Place the baking sheet with the wire rack and onions into the oven.
Broil 12 inches from the heating element until the bacon is crispy, approximately 15 minutes.
Serve warm or at room temperature.
Prep Time: 10 minutes
Cook Time: 15 minutes
Container: baking sheet, wire rack
Servings: 14


Ingredients
-
1 pint (8 oz.) cipolline onions or another type of small onion
-
12 slices bacon - cut in half