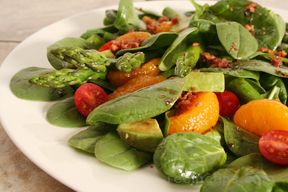 Directions
Prepare asparagus by steam cooking in a steamer filled with 2 cups of water mixed with 1 teaspoon of salt. Heat water on high temperature setting until boiling. Add asparagus to steamer, cover steamer and cook for 3 to 4 minutes or slightly longer if thicker pieces of asparagus are being cooked.
When finished cooking, drain water and cool by running cold water over the hot asparagus. Set aside until cool. When ready to add asparagus to salad, cut into 2 inch lengths. If the end of any stalk of asparagus is tough and fiberous, slice off and discard.
Using a salad bowl, combine the cooked asparagus with the mandarin oranges slices, tomatoes, avocados, garlic, and spinach. Refrigerate until serving. When ready to serve, add dressing and toss all ingredients to mix well.
If salad is served on individual plates, garnish each salad with bits of bacon as a topping over dressing, spinach greens and other mixed ingredients. If salad is to be served from salad bowl, garnish salad in bowl with pieces of bacon.
Prep Time: 25 minutes
Cook Time: 5 minutes
Container: salad bowl
Servings: 6
Serving Size: 2 cups


Ingredients
-
SALAD
-
16 ounces fresh asparagus, cleaned
-
8 ounces baby spinach leaves
-
16 ounces refrigerated mandarin orange sections
-
1 pint grape tomatoes, sliced in half
-
1/3 cup bacon pieces, crumbled and divided
-
DRESSING
-
1/3 cup olive oil, extra virgin
-
1 tablespoon balsamic vinegar
-
1 clove garlic, minced
-
1 pinch salt
-
1 pinch seasoned pepper
-
1 pinch sugar - optional