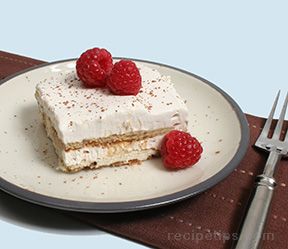 Directions
Cover bottom of dish with half of the wafers, drizzle 2 tablespoons of the coffee liqueur evenly over the wafers.
Mix the cream cheese spread with 3 tablespoons of the coffee liqueur and whisk until well blended. Add powdered sugar, slowly; mix well. Gently stir in whipped topping, mix until well blended.
Layer half of the cream cheese mixture over the wafers in the dish; cover with remaining wafers. Drizzle over the wafers the remaining coffee liqueur; top with the remaining cream cheese mixture.
Cover and refrigerate overnight. Sprinkle with cocoa and top with your favorite fresh fruit just before serving.
Store remaining dessert in refrigerator.
Prep Time: 15 minutes
Container: 8-inch square dish
Servings: 12
Serving Size: 1 piece


Ingredients
-
1/2 cup coffee liqueur
-
36 vanilla wafers, divided
-
8 ounces light cream cheese spread
-
1/4 cup powdered sugar
-
8 ounces light whipped topping, thawed
-
1 cup preferred fresh fruit
-
1 teaspoon cocoa powder