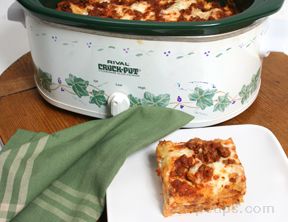 Directions
Brown the ground beef, onion, and garlic in a skillet on the stovetop over medium heat. Cook until meat is no longer pink. Drain the grease.
Add the spaghetti sauce, salt, and oregano to the ground beef and stir until well mixed.
Spread 1/4 of the meat sauce on the bottom of an ungreased 5 quart slow cooker.
Place one 1/3 of the uncooked lasagna noodles over the meat in the bottom of the crock.
Combine all the cheeses together and mix well. Spread 1/3 of the cheese mixture over the noodles.
Repeat with two more layers of meat, noodles, and cheese in the order stated above. Finish with the last 1/4 of meat sauce on top.
Place the cover on the slow cooker and turn it on high. Cook for 1 hour on high and then turn down to low and cook for an additional 2 to 3 hours.
Cook until noodles are tender. Remove the cover, cut into serving size pieces and remove with a spatula.
Prep Time: 45 minutes
Cook Time: 4 hours
Container: 5-quart slow cooker
Servings: 10


Ingredients
-
1 pound ground beef
-
1 large onion, finely chopped
-
2 cloves garlic, minced
-
1 jar spaghetti sauce (26 oz.)
-
1 teaspoon salt
-
1 teaspoon dried oregano (1/2 tsp. if ground)
-
1 package lasagne noodles (8 oz.)
-
4 cups shredded mozzarella cheese
-
1 1/2 cups ricotta cheese or cottage cheese
-
1/2 cup grated parmesan cheese