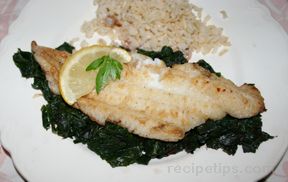 Directions
Warm a serving plate or 2 dinner plates.
Heat 1 tablespoon butter in a 12" skillet. Salt and pepper the filets, dust with flour and lay them flat in the skillet. Cook about 2 minutes on each side. Remove to warm plate.
Add remaining butter to skillet and cook until foamy. Add lemon juice, scrape up any bits from the pan, and pour over fish. Serve hot. Serve with remaining 1/2 lemon cut into wedges, if desired.
Servings: 2
Serving Size: 6 ounces


Ingredients
-
2 filets of sole, about 6 oz each
-
salt and pepper
-
1 tablespoon flour
-
2 tablespoons butter, divided
-
1/2 lemon, juiced