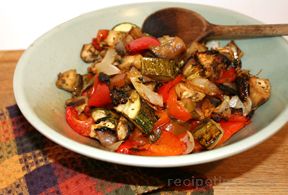 Directions
Preheat oven to 375° F.
Cut eggplant, peppers, squashes and onion into 1" chunks. Cut the garlic cloves in half, lengthwise. Toss with 2 tablespoons olive oil and the rosemary, mixing well. Salt lightly. Oil a rimmed baking sheet or other large shallow pan (like the bottom of a two-part broiler pan) and spread the vegetables, if possible in a single layer. Put in heated oven.
Cut tomatoes into halves (if small) or quarters (if large) and spread in a second oiled pan. Salt lightly and drizzle with 1 tablespoon olive oil. Put pan in oven.
Roast vegetables, turning with a spatula once or twice to ensure even cooking (tomatoes won't need to be turned) about 45 imnutes, or until tender. There should be well browned areas on each but they don't need to be uniformly browned. Don't let them become charred (blackened) as this will produce a bitter taste.
Combine contents of both pans, correct seasoning, and serve hot, warm or room temperature.
Note: Be sure to use shallow pans so the vegetables roast rather than steam.
Prep Time: 15 minutes
Cook Time: 45 minutes
Container: rimmed baking sheets
Servings: 4


Ingredients
-
1 eggplant, 1 - 1 1/2 lbs
-
1 red pepper
-
1 yellow pepper
-
1 zucchini
-
1 summer squash
-
1 onion
-
2 cloves garlic, or to taste
-
3 tablespoons olive oil, divided
-
2 teaspoons chopped fresh rosemary
-
3 large tomatoes, more if small
-
salt