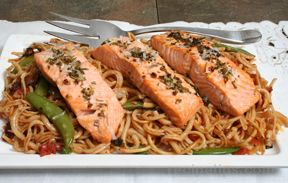 Directions
PASTA:
Bring 6 quarts of water to a boil.
Add 1 tablespoon of salt and 1 pound of pasta.
Cook until al dent approximately 8-10 minutes.
Meanwhile, heat a large skillet over medium heat with 1/4 cup of olive oil.
Add onion and garlic.
Saute until onions are translucent (3-4 minutes).
Add lemon zest, pepper flakes, tomatoes, sun-dried tomatoes and basil.
Stir to combine.
Add 1/2 cup of pasta water, snap peas and drained pasta.
Set aside while you cook salmon.

SALMON:
Cover baking sheet with foil.
Lay fillets, skin side down, on foil.
Drizzle with olive oil.
Sprinkle garlic and rosemary over filets, sprinkle or squeeze fresh lemon juice over fillets.
Place under broiler on low, cook for 3-5 minutes depending on thickness.
Remove from oven.
Divide pasta among 4 plates, place one filet on top of each plate of pasta.
Garnish with parsley and grated parmesan cheese if desired.
Container: baking sheet, large skillet and large pasta pot
Servings: 4


Ingredients
-
1 pound spaghetti or any long pasta of choice
-
1/2 cup olive oil plus extra for drizzling
-
1/2 red onion - diced
-
1/2 white onion - diced
-
3 cloves garlic - sliced
-
1 lemon - zested
-
1 teaspoon crushed red pepper - more or less depending on how hot you prefer it
-
6 leaves fresh basil - chiffonad
-
1 cup tomatoes - diced
-
8 ounces olive oil packed sun-dried tomatoes - drained and slice thin
-
10 ounces snap peas