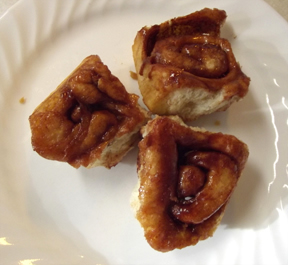 Directions
Combine milk, butter, sugar and salt. Heat, but do not boil. Cool to lukewarm. Add yeast. Stir well.
Add eggs and then flour; mix to soft dough. Knead lightly on floured surface.
Place dough in a greased bowl. Cover and let rise to double.
Punch down and roll out in an 18x24" rectangle. Butter dough generously with melted butter.
Mix 1 1/2 cups sugar and 2 tablespoons cinnamon; sprinkle over dough.
Roll dough up. Cut into 1" slices. Place into buttered 9X13" pans. Pour one stick melted butter over rolls and let rise to double.
Bake at 375 degrees F for 15 minutes or until done. While hot, drizzle with powdered sugar icing.
Prep Time: 1.5 hours
Cook Time: 30 minutes
Container: Two 9 x 13 baking pans


Ingredients
-
1 cup milk
-
1/2 cup butter
-
2/3 cup sugar
-
1 teaspoon Salt
-
2 packages yeast
-
3 eggs, beaten
-
4 cups flour
-
melted butter for buttering rolled out dough
-
1 1/2 cups sugar
-
2 tablespoons cinnamon
-
1/2 cup butter, melted