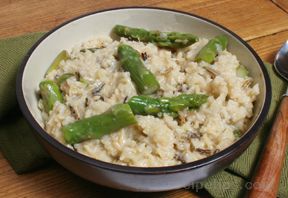 Directions
Blanch asparagus pieces in a pot of boiling water for 2 minutes.
Rinse under cold water and drain well. Set aside.
Have 5 cups of warmed chicken broth ready.
Heat olive oil over medium heat in a large skillet.
Add rice and stir for 3 minutes.
Add wine, if using, and cook until the liquid evaporates, approximately 2 minutes.
Add the broth, 1 cup at a time, letting most of the liquid absorb before adding the next cup.
Keed adding the broth until the rice is tender but still slightly firm in the middle and the mixture is creamy.
Stir frequently during this process, it will take approximately 20-30 minutes.
Add asparagus and mix to combine.
Shut off heat and add butter, stir until melted.
Stir in grated cheese.
Season with salt and pepper to taste.
Prep Time: 30 minutes
Cook Time: 30 minutes
Container: large skillet, saucepan
Servings: 8


Ingredients
-
1 cup risotto
-
1/2 cup basmati and wild rice
-
1 bunch asparagus - trimmed, cut into 2 inch pieces
-
5 cups chicken broth - either canned or cubes dissolved in water
-
2 tablespoons olive oil
-
1/2 cup onion - chopped
-
1/2 cup dry white wine - optional
-
1 stick butter
-
3/4 cup parmesan, asiago or romano cheese - grated
-
salt and pepper to taste