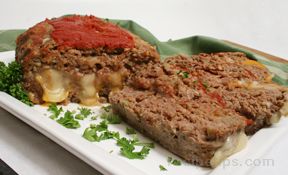 Directions
Preheat oven to 350°.
Spray loaf pan with non stick cooking spray.
In a large bowl, mix together the meats, cracker crumbs, egg, galic, onion, salt and pepper, Worcestershire sauce and tomato sauce.
Don't over mix, just mix with your hands to combine.
Split meat mixture in half.
Shape 1/2 into an oblong oval, place in the loaf pan.
On top of that, sprinkle cheese all over.
Top with second half of the meat mixture.
Go around the edges and seal so that the cheese won't leak out.
Pour tomato sauce over the top.
Place in the oven and bake for 50 - 60 minutes or until the internal temperature reaches 160°.
Prep Time: 15 minutes
Cook Time: 1 hour
Container: loaf pan and large mixing bowl
Servings: 8


Ingredients
-
1/2 cup saltine crackers, crushed
-
2 pounds ground beef - can use sausage, italian sausage or any combination
-
1 egg
-
2 cloves garlic - minced
-
2 onion - minced
-
salt and pepper to taste
-
1/4 cup tomato sauce
-
2 tablespoons Worcestershire sauce
-
1 cup cheese - any kind you choose, shredded
-
1/2 cup tomato sauce (for top)