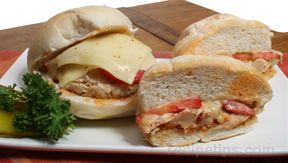 Directions
Place mayonnaise is a small bowl along with the chipotle chiles in sauce and presoaked sun dried tomatoes.
Mix together, cover and put in the refrigerator until ready to use.
Mix all of the marinade ingredients together.
Pour over chicken in a one gallon ziploc plastic bag.
Turn to coat and place in the refigerator to marinade for at least 1/2 hour but no more than 1 hour.
Discard marinade and place chicken on the grill and cook for 8-10 minutes or until no longer pink on the inside.
Split sandwich rolls.
Generously spread cut sides of rolls with the mayonnaise mixture.
Layer chicken breasts, slightly overlapping on the bottom of the roll.
Top each portion of chicken with tomato and slices of avocado.
Cover with two slices of cheese.
Place assembled sandwiches open faced on a sheet pan and bake until the cheese is melted, approximately 5 minutes.
Put the tops on back on the sandwiches, slice and serve.
Container: small mixing bowl, grill or skillet
Servings: 4


Ingredients
-
MAYONNAISE SPREAD:
-
1 cup mayonnaise
-
1 clove garlic - crushed
-
2 canned chipotles in adobo sauce - minced fine
-
1/4 cup sun dried tomatoes (not packed in oil) soaked in hot water for 1/2 hour - drained and chopped fine
-
MARINADE:
-
1/4 cup lemon juice
-
1 clove garlic - crushed
-
1 teaspoon seaonsed salt
-
1 teaspoon paprika
-
1/2 cup olive oil
-
4 boneless, skinless chicken breast halves
-
4 telera rolls - split in half or comparable roll
-
4 plum tomatoes - sliced
-
1 avocado - peeled and cut into 16 slices
-
8 slices pepper jack cheese