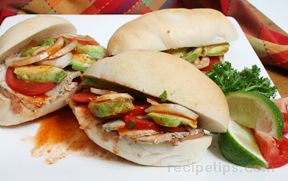 Directions
SAUCE:
Remove stems from chiles and soak them in water for 30 minutes.
Drain the chiles.
Combine all of the sauce ingredients in a saucepan and simmer for 15-20 minutes.
Place all in a food processor or blender and process until smooth.
Pour through a strainer to remove any seeds.
Season with salt to taste.

SANDWICH:
Sauté pork or grill until fully cooked.
Slice into thin slices.
Spread refried beans on one side of the sub roll.
Lay pork slices on top of refried beans.
Top with tomato, avocado and onion.
Sprinkle the sandwich with oregano and pour the sauce over the top. The sauce amount can vary depending on how saucy and spicy you like your sandwich.
Top with the top part of the sub roll.
Prep Time: 30 minutes
Cook Time: 30 minutes
Container: blender, saucepan
Servings: 4


Ingredients
-
SAUCE:
-
2 ounces dried orbol chiles
-
1 cup boiling water
-
1 cup apple cider vinegar
-
1/2 teaspoon dried oregano
-
1 whole clove
-
1 tablespoon black sesame seeds
-
1 clove garlic - minced
-
salt to taste
-
SANDWICH:
-
4 sub rolls
-
1 pound pork loin, sliced thin
-
1 can refied beans - warmed
-
2 tomatoes - sliced
-
2 avocados - sliced
-
1 onion - sliced thin
-
2 sprigs fresh oregano - for garnish