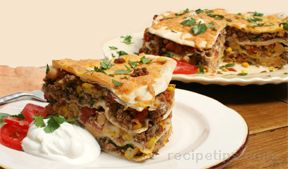 Directions
Preheat oven to 400 degrees F.
Lightly spray or grease the bottom and sides of a springform pan.
In a skillet over medium heat, add olive oil, onion, cumin and red pepper flakes, season with salt and pepper.
Cook until onion has softened, 3-5 minutes.
Stir in tomato paste.
Add hamburger and garlic, crumble hamburger as it cooks until no longer pink.
Add corn, spinach, diced tomatoes and garbonzo beans (chickpeas).
Stir and cook until spinach has wilted, approximately 2 minutes.
Place 1 tortilla in the bottom of the springform pan.
Spread approximately 1 1/2 cup of the beef mixture evenly on top.
Then sprinkle on 1/2 cup cheese.
Repeat with 2 more layers and top with the last tortilla.
Sprinkle with the remaining 1/2 cup of cheese.
Set springform pan on a baking sheet or on top of foil to catch any drippings while being baked.
Bake pie until slightly browned, 15-20 minutes.
Run a knife around the edge of the pan and remove the sides.
Allow to cool slightly.
Using 2 wide spatulas, lift the pie from the bottom of the pan and transfer it to a serving platter or cutting board.
Cut into wedges.
Serve with cilantro, sour cream, and salsa if desired.
Prep Time: 30 minutes
Cook Time: 20 minutes
Container: 9 inch springform pan, skillet, baking sheet or foil
Servings: 6


Ingredients
-
4 flour tortillas (10-inch)
-
1 tablespoon olive oil
-
1 medium onion - chopped
-
1 1/2 teaspoons ground cumin
-
1/2 teaspoon red pepper flakes
-
salt and pepper to taste
-
2 tablespoons tomato paste
-
1 pound ground beef
-
3 cloves garlic - minced
-
1 package (10 oz.) frozen corn kernels
-
1 (10 oz.) can of tomatoes with green chiles - drained
-
1 (15 oz.) can garbanzo beans (chickpeas) - drained
-
3 cups loosely packed spinach - torn into pieces
-
2 cups Monterey Jack cheese or Colby cheese - shredded
-
fresh cilantro for garnish (optional)
-
sour cream (optional)
-
favorite salsa (optional)