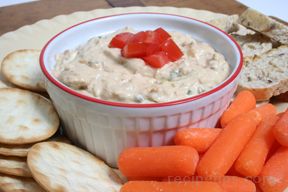 Directions
Soak tomatoes in boiling water for 30 minutes to soften, drain and chop.
In a medium microwaveable bowl, mix all ingredients together.
Microwave on high, uncovered, 3-4 minutes stirring half way through until the cheese is melted.
Serve with crackers, vegetables or baguette slices.
Can be served in a fondue pot if desired.
Prep Time: 5 minutes
Cook Time: 5 minutes
Container: 3 cup microwaveable bowl or dish
Servings: 18


Ingredients
-
3 tablespoons sundried tomatoes - chopped (not the oil packed variety)
-
boiling water - enough to cover the tomatoes
-
4 ounces cream cheese
-
1/2 cup romano cheese - grated (or parmesan or asiago)
-
3/4 cup sour cream
-
4 green onions - thinly sliced
-
assorted vegetables or baguettes for dipping