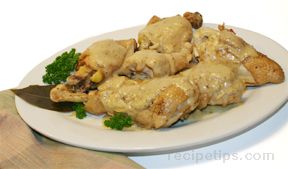 Directions
Mix flour, salt, pepper and paprika. Dredge chicken pieces in this mixture.
In a heavy skillet, heat oil and brown chicken over medium heat until golden brown on all sides.
Remove chicken, leaving about 1 tablespoon fat in skillet (add some if necessary). Add onions to skillet and cook, stirring occasionally, about 5 minutes. Add garlic and cook 1 - 2 minutes, stirring to coat with oil.
Pour a little of the wine ( See TIP) into the skillet and stir around to dissolve any browned bits on the pan. Return chicken pieces to pan, on top of the garlic and onions. Add remaining wine and herbs, cover and adjust heat to maintain a simmer. Cook until chicken is tender (30 - 45 minutes).
Remove chicken to a warm plate. If there is a lot of liquid, boil over high heat for a few minutes to reduce to about 1 cup. Discard bay leaf. Puree garlic, onions and pan juices in blender or food processor (or directly in the pan with an immersion blender). Taste sauce for seasoning, spoon some over the chicken and pass any remaining sauce to be added at the table.
TIP: To keep wine on hand for cooking, use good-quality boxed wine. An open box will stay good for many weeks.
TIP: To peel garlic cloves easily, rub each briskly between your palms for a few seconds.
Prep Time: 15 minutes
Cook Time: 45 minutes
Container: heavy skillet with lid
Servings: 4


Ingredients
-
1 cut up chicken, about 3 1/2 lbs.
-
2 tablespoons olive oil, more if needed
-
1/4 cup flour
-
1 teaspoon salt
-
1/4 teaspoon freshly ground black pepper, or to taste
-
1 teaspoon paprika, mild or hot, as preferred
-
1 large onion, chopped
-
4 large heads of garlic, separated into cloves, cloves peeled
-
1 cup dry white wine
-
1 bay leaf
-
1 tablespoon chopped fresh tarragon or rosemary, or 1 teaspoon dried and crumbled rosemary