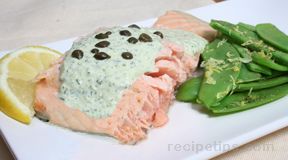 Directions
SAUCE:
Pick enough tarragon leaves to measure 1/2 cup - not packed.
Put in a food processor along with green onions and shallots.
Pulse a couple of times.
Add in parsley, mayonnaise, rice vinegar and Dijon mustard.
Process until smooth.
Season with salt and pepper.
Sauce may be made a day ahead.
Keep covered and chilled.
Bring to room temperature before serving.

SALMON:

In a skillet, bring stock (or wine), water and lemon slices to a simmer, covered.
Cut salmon into 6 pieces, season with salt and pepper.
Place 3 salmon pieces, skin side down, into simmering liquid.
Add hot water if necessary to just cover the salmon.
Poach at a low simmer, covered, for 8-10 minutes or just until cooked through.
Check with a fork at the thickest part to check for flakiness.
Transfer cooked salmon to a platter.
Cook remaining salmon the same way.
Serve warm or at room temperature with tarragon sauced drizzled over the top.
Extra sauce can be served on the side.
Prep Time: 15 minutes
Cook Time: 10 minutes
Container: skillet, food processor
Servings: 6


Ingredients
-
SALMON:
-
1/2 lemon - sliced into thin rings
-
3 pounds salmon fillet - cut into 6 pieces
-
2 1/2 cups dry white wine or chicken stock
-
2 1/2 cups water
-
SAUCE:
-
2 bunches fresh tarragon - leaves stripped from the stem
-
8 green onion, cut in half
-
1 large shallot - cut into chunks
-
3/4 cup parsley - regular or flat leaf
-
1/3 cup rice wine vinegar
-
1 cup mayo
-
2 teaspoons Dijon mustard
-
capers for garnish - optional