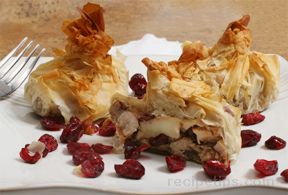 Directions
Preheat oven to 400° F.
Mix turkey (or chicken), dice brie, chutney, walnuts and craisins.
Season with salt and pepper.
Cut phyllo sheets in half width wise, then cut in half again.
Layer 3 sheets together, brushing with a little melted butter so they stick together.
Divide the turkey mixture amoung the squares. Use approximately 1 1/2 tablespoons per square.
Gather up the pastry to enclose the fillng.
Twist the top to enclose the bundle.
Place on a baking sheet, brush with a little melted butter and bake for 15-20 minutes or until crisp and golden.
Serve hot or warm.
Prep Time: 15 minutes
Cook Time: 15 minutes
Container: mixing bowl, baking sheet
Servings: 8


Ingredients
-
1 pound cooked turkey or chicken - chunked
-
1 cup (4 oz.) brie cheese - diced
-
1 jar chutney
-
3 tablespoons walnuts or almonds - chopped
-
6 tablespoons craisins
-
9 sheets phyllo pastry
-
1/2 cup butter - melted