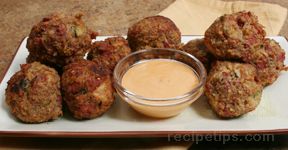 Directions
Combine all ingredients (except oil, cheese and dressing) in a mixing bowl.
Cover and chill the batter for at least 15 minutes but can be left overnight if needed.
Heat oil in a deep fryer or skillet to 350°.
Use tablespoons or a small scoop to measure batter and form into balls.
May want to flour your hands as the batter is sticky.
Stuff a cheese cube into the center of the batter ball, make sure it is completely enclosed.
Fry in oil in batches, approximately 3-4 minutes.
Let it get nice and golden brown so the inside cooks and the cheese melts a little.
Remove from oil and place on paper towels to drain.
Serve with dressing for dipping.
Prep Time: 15 minutes
Cook Time: 5 minutes
Container: deep fat fryer or deep saucepan, mixing bowl
Servings: 7


Ingredients
-
1 cup cooked corned beef, can use deli corned beef if desired
-
1 cup rye bread crumbs
-
1/2 cup bavarian or regular sauerkraut - squeezed out, reserve the juice
-
1/2 cup dill pickle - diced
-
1/2 cup milk
-
1/3 cup flour
-
1/4 cup cornmeal - any type
-
1/4 cup green onion - thinly sliced
-
1 egg
-
2 tablespoons sauerkraut juice
-
2 teaspoons baking powder
-
2 teaspoons dry mustard
-
1/2 teaspoon kosher salt
-
1/2 teaspoon sugar
-
1/2 teaspoon cayenne pepper
-
1/4 teaspoon baking soda
-
1 block of swiss cheese - cut into 15, 1/2 inch chunks
-
2 cups vegetable oil
-
thousand island dressing for dipping