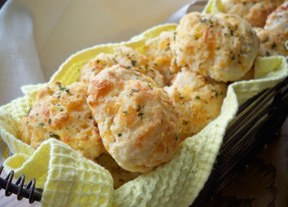 Directions
Preheat oven to 400 degrees F.
>li>Combine Bisquick & butter in medium bowl using a pastry cutter or large fork. Don't mix too thoroughly. (There should be small chunks of butter in there that are about the size of peas).
Add cheddar cheese, milk, and 1/4 tsp. garlic. Mix by hand until combined, don't over mix.
Drop approximately 1/4 cup portions of dough on an ungreased cookie sheet using an ice cream scoop.
Bake for 15-17 minutes or until the tops of the biscuits begin to turn light brown.
When you take the biscuits out of the oven, melt 2 tbsp. butter in a small bowl in the microwave. Stir in 1/2 tsp. garlic powder and the dried parsley flakes.
Use a brush to spread this garlic butter over the tops of all the biscuits. Use up all of the butter.
Makes 1 dozen biscuits.
Prep Time: 25 minutes
Cook Time: 15 minutes
Container: Cookie sheet
Servings: 12


Ingredients
-
2 1/2 cups Bisquick baking mix
-
3/4 cup cold whole milk
-
4 tablespoons cold butter
-
1/4 teaspoon garlic powder
-
1 cup shredded cheddar cheese
-
TOPPING:
-
2 tablespoons butter
-
1/2 teaspoon garlic powder
-
1 teaspoon parsley flakes