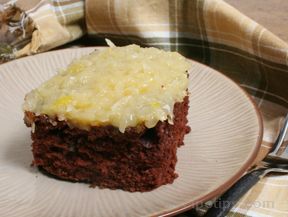 Directions
Combine evaporated milk, sugar, egg yokes, and shortening in a saucepan.
Over medium heat, bring the mixture to a full boil. Stir while cooking.
After mixture comes to a full boil remove it from the heat and add the coconut and vanilla. Stir until well mixed.
Spread over cooled cake. Store covered at room temperature.
Prep Time: 25 minutes
Cook Time: 20 minutes
Servings: 15


Ingredients
-
2/3 cup evaporated milk
-
2/3 cup sugar
-
2 egg yokes
-
1/3 cup shortening
-
1 1/3 cups coconut
-
1 teaspoon vanilla