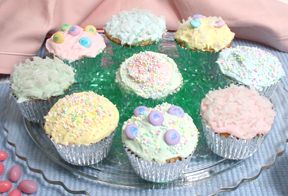 Directions
CAKE:
Select your favorite cake mix. White, Yellow, Lemon, Cherry Chip or Chocolate all work well.
Prepare the cake mix as directed on the package.
Line muffin tins with cupcake paper liners and fill the cups 2/3 full with cake mix.
Bake as directed in the instructions on the cake mix package.
Remove the cupcakes from the oven and allow to cool completely before decorating.
FROSTING:
Combine all ingredients in a large mixing bowl. Beat until light and cream, approximately 3 minutes.
Divide the frosting into smaller quantities for as many different colors you would like to make and place each in small bowls.
Add food coloring to color each amount to the desired color. For pastel colors, start by adding 1 small drop. Add more if a darker color is desire.
Frost the cooled cupcakes with the different colors as desired. Colored sugars, non-pariels, sprinkles, dragees, coconut, and candy can be used to decorate the cupcakes for Easter.
The cupcakes can also be decorated for other seasons or holidays. Just change the frosting colors and decorations accordingly.
Prep Time: 25 minutes
Cook Time: 35 minutes
Container: Muffin tin
Servings: 24
Serving Size: 1 each


Ingredients
-
CAKE:
-
1 cake mix (favorite flavor)
-
FROSTING:
-
1 pound powdered sugar (1/2 of 2 lb. bag)
-
1/4 cup milk
-
3/8 teaspoon salt
-
1/2 cup shortening
-
1/2 teaspoon vanilla extract
-
1/2 teaspoon almond extract
-
Food coloring
-
Decorating ingredients: colored sugars, non-pariels, sprinkles, dragees, coconut, and candy