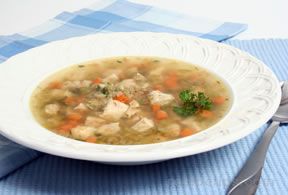 Directions
In a large saucepan, heat 2 tablespoons of olive oil over medium-high heat.
Add ½ cup chopped carrots, ½ cup chopped celery, and ½ cup chopped onions or scallions to the heated oil and sauté for about 5 minutes or until the vegetables just start to brown.
Stir in 2 cups of water and 3 cups of chicken stock or broth and bring to a boil.
Stir in ½ cup of rinsed quinoa, 2 cups of cooked and diced chicken, ¼ cup finely chopped parsley, ½ teaspoon garlic powder, ½ teaspoon black pepper, and ½ teaspoon salt. Cover the pan, reduce the heat to low, and cook for 20 minutes.
Adjust the seasoning if necessary and serve. This recipe yields approximately 8 one-cup servings.
Prep Time: 10 minutes
Cook Time: 20 minutes
Servings: 8


Ingredients
-
2 tablespoons olive oil
-
1/2 cup carrots - chopped
-
1/2 cup celery - chopped
-
1/2 cup onions or scallions - chopped
-
2 cups water
-
3 cups chicken broth or stock
-
1/2 cup quinoa - rinsed
-
2 cups chicken - cooked and diced
-
1/4 cup parsley - chopped fine
-
1/2 teaspoon garlic powder
-
1/2 teaspoon fresh black pepper
-
1/2 teaspoon salt