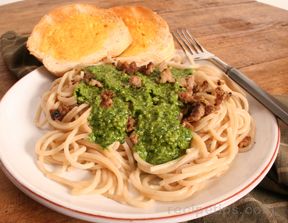 Directions
Wash spinach and parsley, but do not dry.
In a food processor or blender, combine spinach, parsley, garlic cloves, pine nuts, walnuts, butter, Parmesan and Romano cheeses, and olive oil. Blend together until lightly pureed. Mixture will be thick and heavy in consistency.
Cook pasta or spaghetti in a large pot. Boil until cooked to proper texture or cook according to directions.
While cooking pasta, prepare turkey and onion. Saute onion and minced garlic in oil until soft. Add ground turkey and cook until meat is nicely browned - no pink color in meat.
Drain off any excess moisture as turkey and onion are being sauteed. Season turkey to taste.
When finished cooking pasta or spaghetti, check consistency of sauce mixture. If mixture is too thick, add a small amount of water from cooked pasta or spaghetti to lightly thin the sauce to the desired consistency.
Pour pasta or spaghetti into strainer to drain away excess water. While still hot, place pasta or spaghetti on a large serving dish where sauce can be tossed into hot ingredients or place on individual plates where sauce could also be added as a topping so it warms and melts the cheese into the pasta or spaghetti.
Garnish with cooked turkey as topping over sauce or blend into pasta and sauce.
Servings: 6


Ingredients
-
Turkey and Pasta
-
12 ground turkey
-
1 garlic, minced
-
1/2 sweet onion, chopped
-
1 spaghetti or pasta
-
Sauce
-
1/2 pine nuts
-
1/4 walnuts
-
2 spinach, firmly packed
-
1/2 fresh parsley, firmly packed
-
3 garlic
-
1/2 Parmesan cheese
-
1/2 Romano cheese
-
1/4 butter
-
1/2 olive oil
-
1 canola oil
-
1 seasoned salt