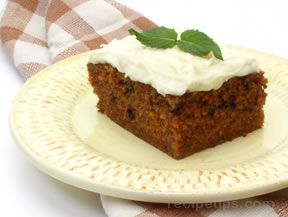 Directions
CAKE:
Preheat oven to 350°.
Peel and grate carrots and set aside.
In a large bowl, add flour, baking powder, baking soda, salt, cinnamon and sugar. Stir until combined.
In a medium bowl, slightly beat eggs, oil and vanilla.
Add egg mixture to the flour mixture.
Stir until combine.
Add carrots, raisins and nuts, stir until combined.
Spray pan with nonstick cooking spray.
Pour into a prepared pan and bake 45 minutes or until a toothpick inserted in the center comes out clean.
Remove from oven and cool completely before adding the frosting.

FROSTING:
In a bowl, beat together cream cheese, butter, vanilla and powdered sugar with an electric mixer until smooth.
Frost cooled cake.
Prep Time: 30 minutes
Cook Time: 45 minutes
Container: 9x13 baking pan
Servings: 12


Ingredients
-
CAKE:
-
1 1/3 cups flour
-
1 1/2 teaspoons baking powder
-
1 teaspoon baking soda
-
1 teaspoon salt
-
1 1/2 teaspoons cinnamon
-
1/2 teaspoon nutmeg
-
1 1/2 cups sugar
-
1 cup canola oil
-
1 1/2 teaspoons vanilla extract
-
3 eggs
-
3 cups carrots
-
1/2 cup raisins
-
1/2 cup walnuts - chopped, or favorite nut
-
FROSTING:
-
6 ounces cream cheese - softened
-
1/3 cup butter - softened
-
2 cups powdered sugar