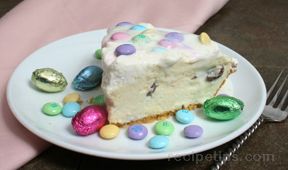 Directions
In a large mixing bowl, beat the cream cheese until fluffy.
Gradually mix in the condensed milk until smooth.
Add the milk and pudding.
Mix until smooth.
Pour half of this mixture into the bottom of the crust.
Sprinkle chocolate egg halves over the pudding mixture.
Top with the remaining filling.
Cover the pie with a layer of whipped topping.
Chill in the refrigerator for one hour. Sprinkle the top with Easter colored M & M chocolate candies and allow to chill for two more hours.
Prep Time: 5 minutes
Servings: 8


Ingredients
-
1 (6 oz.) ready made graham cracker crust
-
1 package(8 ounces) cream cheese - softened
-
14 ounces sweetened condensed milk
-
3/4 cup cold milk
-
1 package (4 serving size) instant white chocolate flavored pudding and pie filling
-
1 1/2 cups whipped topping
-
16 chocolate eggs - cut in half
-
Easter colored M & M chocolate candies