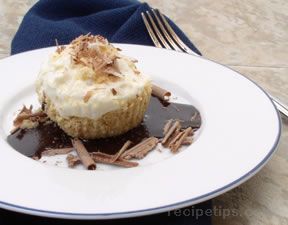 Directions
Turn stovetop burner on low heat and roast finely shredded coconut in pan on stovetop until lightly toasted. Stir continually to keep from burning. Remove and set aside the coconut as it becomes lightly browned to keep from over cooking.
In a large mixing bowl, combine cream cheese with sugar. Use electric mixer on low speed to mix until light and fluffy.
Add crushed pineapple and 3/4 cup of toasted coconut to the cream cheese and sugar, stirring until combined. Reserve 1/4 cup of coconut to sprinkle for topping.
Stir thawed whipped topping into other ingredients.
Crush macaroon cookies into small crumbs.
Place 12 foil or paper muffin cups into muffin tin.
Evenly divide cookie crumbs, placing equal amounts in each muffin cup.
Spoon equal amounts of cream cheese mixture over cookie crumbs.
Sprinkle additional coconut over the top.
Freeze until firm - about 4 hours or overnight.
When ready to serve, top with chocolate sauce and garnish with shavings of dark chocolate.
Prep Time: 20 minutes
Cook Time: 10 minutes
Container: muffin tin
Servings: 12
Serving Size: 1 each


Ingredients
-
10 sandwich macaroon cookies, finely crushed
-
8 ounces cream cheese
-
2 tablespoons sugar
-
8 ounces crushed pineapple
-
1 cup shredded coconut, toasted and divided
-
2 cups whipped topping, thawed
-
12 ounces chocolate sauce
-
1 chocolate bar - optional