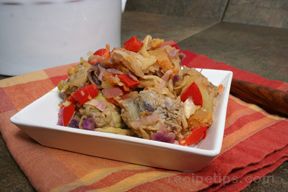 Directions
In a large skillet, brown sausage, drain and set aside.
In the same skillet (wiped out), add 2 tablespoons olive oil.
Add garlic, red pepper, onion and cabbage.
Cook over medium heat.
Add sweet potatoes and cooked sausage.
Stir in 2 teaspoons of Worcestershire sauce.
Cover and cook for 10 minutes.
Salt and pepper to taste.
Prep Time: 10 minutes
Cook Time: 15 minutes
Container: large skillet, serving dish
Servings: 6


Ingredients
-
1 pound wild rice sausage or kielbasa sausage - cut into 1/4 inch slices
-
1 package shredded cabbage and carrot mix
-
1 red pepper - chopped
-
1 onion - chopped
-
1 can sweet potatoes - cut into chunks or 1 baked sweet potato - cut into chunks
-
2 teaspoons Worcestershire sauce
-
1 clove garlic - minced
-
2 tablespoons balsamic vinegar