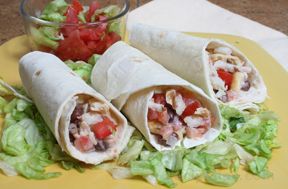 Directions
Place fish on foil lined baking sheet.
Drizzle with a small amount of olive oil.
Place under broiler and broil 8-10 minutes on low.
The thickness of the fish will determine how long to broil. It is done when it flakes with a fork.
Remove and set aside.
While fish is cooking, mix together the salsa, sour cream, black beans and cumin.
Heat 4 tortillas in microwave for one minute or wrapped in foil and put in the oven for 8-10 minutes.
Arrange fish equally on 4 warm tortillas, top with salsa mixture, garnish with lettuce and red pepper.
May serve with lime wedges.
Prep Time: 10 minutes
Cook Time: 10 minutes
Container: baking sheet and medium mixing bowl
Servings: 4


Ingredients
-
6 ounces fish, such as cod or halibut
-
2 teaspoons olive oil to drizzle
-
1 cup salsa - medium to hot
-
1/2 can black beans - rinsed and drained
-
1/4 cup sour cream
-
1/2 teaspoon cumin
-
lettuce - chopped
-
red pepper - chopped
-
lime wedges