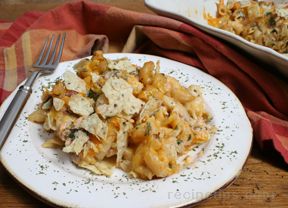 Directions
Preheat oven to 425°.
Cook pasta according to package directions, tender but still firm. Drain and set aside
Meanwhile, blend salsa, cilantro and sour cream in a small dish. Set aside.
Heat 2 tablespoons of butter over medium high heat in a sauté pan.
Add 2 tablespoons of flour and whisk in the milk, keep whisking until thickened.
Turn heat down to medium low and add in 2 cups of shredded cheese. Stir until all is melted.
Stir in noodles.
Spread half of the macaroni and cheese mixture into the casserole dish.
Then spread on half of the salsa mixture over the noodles.
Sprinkle with 1/2 cup of the shredded cheese and 1/2 cup of parmesan cheese.
Repeat these layers.
Sprinkle chips over the top and bake until heated through, approximately 15 minutes.
Prep Time: 25 minutes
Cook Time: 35 minutes
Container: 9x13 casserole dish, large sauté pan
Servings: 8


Ingredients
-
2 cups uncooked macaroni noodle or favorite pasta
-
1 cup thick and chunky salsa
-
1 cup fresh cilantro - chopped
-
8 ounces sour cream
-
3 cups cheddar cheese or monteray jack cheese - shredded and divided
-
1 cup parmesan cheese
-
2 tablespoons butter
-
2 tablespoons flour
-
1 1/2 cups milk
-
1 1/2 cups corn chips, regular or lime flavored - broken up