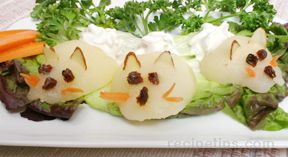 Directions
Arrange lettuce leaves on four salad plates.
Place a pear half cut side down on top of the lettuce leaves.
Insert two raisins at the narrow end of the pear for eyes and one for the nose.
Add the almonds in an upright position for the ears.
Place 3 or 4 carrot slivers on either side of the nose for whiskers.
Spray a small amount of whipped cream at the wide end of the pear to resemble a tail.
Prep Time: 10 minutes
Cook Time: 0 minutes
Servings: 4


Ingredients
-
1 can (15 1/4 oz.) pear halves - drained
-
12 raisins
-
8 almonds - whole or slivered
-
1 baby carrot - slivered
-
4 dollops of whipped cream