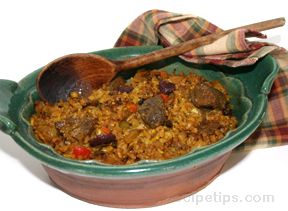 Directions
Trim any large areas of fat from the meat and salt and pepper lightly. In a heavy skillet or Dutch oven, heat oil and brown lamb (if using already cooked lamb, skip this step). Remove lamb and set aside. Remove all but 2 - 3 tablespoons fat from the pan. If less than 2 tablespoons remains, add more olive oil.
Add onions, garlic, rice, salt, turmeric, cumin, ginger, paprika and cinnamon to pan in which meat was browned and cook, stirring, for 4 - 5 minutes.
Add wine, water, and lamb. Stir to mix well.
Cover tightly and adjust heat to maintain a simmer (if using oven instead of stovetop, bake at 375) for about 45 minutes.
Add olives and lemon, if using, and check to make sure there is still some moisture. Cook another 15 minutes, or until lamb and rice are both tender.
Prep Time: 20 minutes
Cook Time: 1 hour
Container: heavy pot with lid
Servings: 6


Ingredients
-
1 pound lamb, cubed (3/4 - 1 inch cubes)
-
2 tablespoons olive oil
-
2 onions, sliced or chopped
-
4 cloves garlic, or to taste
-
1 cup long grain rice, preferably brown
-
1 teaspoon salt, (in addition to salt and pepper for uncooked lamb cubes)
-
1 teaspoon turmeric
-
1 teaspoon cumin
-
1 teaspoon ginger
-
1 teaspoon paprika
-
1/4 teaspoon cinnamon or allspice
-
1 cup dry wine
-
1 1/2 cups water
-
6 kalamata or other flavorful olives, coarsely chopped
-
1 tablespoon chopped preserved lemon (optional, but tasty)