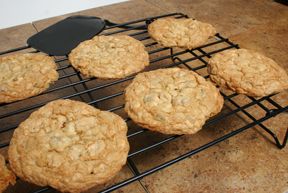 Directions
Preheat oven to 350°.
In a large mixing bowl, combine sugars, butter, shortening, eggs and vanilla.
Beat until light and fluffy.
Add flour, oatmeal, baking soda, baking powder and salt.
Mix until a soft dough forms.
Stir in chips.
Drop dough by heaping teaspoons two inches apart onto greased cookie sheets.
Bake for 10-12 minutes or until golden brown.
Allow to cool completely on wire racks.
Store in an airtight container.
Prep Time: 10 minutes
Cook Time: 10 minutes
Container: mixer, cookie sheets


Ingredients
-
1 cup sugar
-
1 cup packed brown sugar
-
1/2 cup (1 stick) butter or margarine- softened
-
1/2 cup vegetable shortening
-
2 eggs
-
1 teaspoon vanilla
-
2 cups flour
-
2 cups uncooked old fashioned rolled oats
-
1 teaspoon baking soda
-
1/2 teaspoon baking powder
-
1/4 teaspoon salt
-
1 cup butterscotch chips
-
1 cup semi sweet chocolate chips