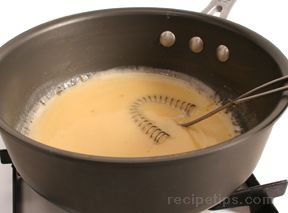 Directions
In a heavy sauce pan combine shallots, white wine, and white wine vinegar.
Simmer mixture gently until nearly all liquid has evaporated.
Check saucepan to ensure that it has not browned. Browning will discolor the sauce. Wipe off browning with a wet towel.
Add heavy cream or liquid replacement. If cream is not being used, an equal amount of water or other liquid must be added to prevent sauce from becoming too thick.
Add prepared butter.
Over high heat, whisk sauce until butter has melted.
Season to taste.
Add a few drops of wine vinegar if sauce seems flat. Add butter if sauce is harsh or acidic.
Prep Time: 15 minutes
Cook Time: 30 minutes


Ingredients
-
3 ounces shallots, peeled and finely chopped
-
1/2 cup white wine vinegar
-
1/2 cup white wine
-
4 tablespoons heavy cream or other liquid replacement
-
1 pound butter, cut into 1 inch cubes
-
Salt and pepper to taste