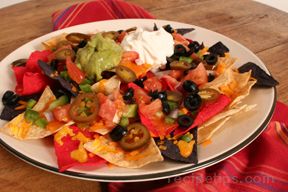 Directions
Shred the cheese or use packaged shredded cheese.
Chop the tomatoes, green pepper, and red onion into small bits that can be easily used to top each chip.
Cut the jalapeno peppers and black olives into thin round slices.
Using a microwave-safe plate, evenly space the nacho chips around the plate.
Sprinkle the cheese over each chip, fully covering the chips with a layer of cheese.
Microwave the chips and toppings until the cheese is lightly melted.
Top the chips with bits of tomatoes, green pepper, red onion, black olives, and jalapeno pepper slices.
Garnish the hot nacho chips with guacamole and sour cream for dipping.
Serve immediately.
Prep Time: 20 minutes
Cook Time: 1 minute
Container: microwave safe dish or plate
Servings: 4
Serving Size: 4 each


Ingredients
-
6 cups nacho chips, multicolored or chips of choice
-
1/2 cup cheddar cheese, shredded - more if desired
-
1/2 cup fresh tomato, chopped
-
1/2 cup green pepper, chopped
-
1/2 cup red onion, chopped
-
1/4 cup jalapeno peppers, sliced - more if desired
-
1/2 cup black olives, sliced
-
1/4 cup prepared guacamole
-
1/4 cup sour cream