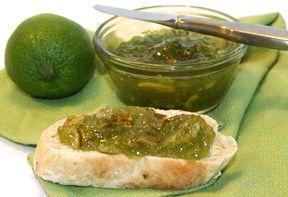 Directions
Prepare containers: 4 half-pint jars with canning lids (or, if freezing, any freezable containers). Sterilize jars and lids according to manufacturer's instructions.
Wash limes well and slice, removing seeds. Put into food processor and pulse until finely chopped. Measure pulp; there should be 2 cups. Adjust other measurements if you don't have 2 cups.
Put pulp in saucepan with 2 cups water and simmer, covered, for 30 minutes.
Stir in sugar and salt, raise heat and boil, uncovered, until mixture gels (220 on a candy thermometer, or see TIP for gel test). This should take about 20 minutes, but start testing after 12 - 15 minutes.
Spoon hot marmalade into sterile containers, leaving 1/2 inch headroom. Put on lids and process in a boiling water bath for 5 minutes. (In a pan that holds the jars snugly enough that they can't tip over, cover jars completely with hot water and bring to a boil. Start counting time from when the water boils).
Cool on a rack or towel, store in a cool place.
TIP an easy gel test: put several small plates in the freezer. When product begins to thicken, drop a tablespoon on to one of the cold plates. If it gets as thick on the cold plate as the finished product should be, it is ready.
Prep Time: 20 minutes
Cook Time: 1 hour
Container: large saucepan, large pan for water bath if processing.
Servings: 64
Serving Size: 1 tablespoon


Ingredients
-
6 large limes, more if small, to make 2 cups of pulped lime
-
2 cups water
-
3 cups sugar
-
1/8 teaspoon salt