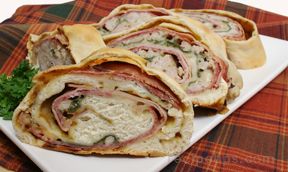 Directions
This recipe can be used with refrigerated french loaf dough or frozen bread dough.
If using a refrigerated dough, skip the thawing and rising portion that is listed next and skip to rolling out the dough.
If using frozen dough, place frozen bread dough out to thaw for eight hours or overnight.
When thawed, place in a large, greased bowl and cover with plastic wrap.
Place in a warm place and allow the dough to rise until it is doubled in size - approximately 2-3 hours.
Punch dough down and roll out into a 10x14 rectangle on a floured baking sheet.
Preheat oven to 350°.
Spread honey mustard over the dough.
Layer ham on the dough, coming to within 1/2 inch from the edge. Then a layer of salami over the ham.
Sprinkle sausage evenly over the salami and top with parmesan cheese.
Spread chopped spinach over all.
Sprinkle 1 teaspoon of oregano and then a layer of provolone cheese over all.
Roll up jelly roll style starting on a long end.
Seal seam together and pinch and tuck ends under.
Turn the roll so the seam side is down.
Bake for 35-40 minutes.
Cut into sandwich slices after it has cooled for approximately 10 minutes.
Prep Time: 15 minutes
Cook Time: 40 minutes
Container: baking sheet, large mixing bowl
Servings: 8


Ingredients
-
1/2 pound ground sausage - plain or Italian - cooked
-
1 loaf frozen bread dough or 1 canister of refrigerated french bread dough
-
2 tablespoons honey mustard
-
1/4 cup parmesan cheese - shredded
-
8 slices honey ham
-
10 slices salami
-
1 1/2 cups provolone cheese - shredded
-
1 1/2 cups packed fresh spinach - chopped
-
1 teaspoon dried oregano